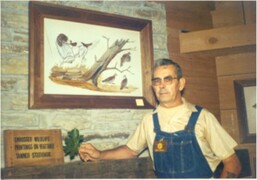 Dick Giehl (1918-2002)
A self-taught artist, based in Columbus, Ohio, whose work was inherent to his way of life. Dick's interest in wildlife and painting dates back to his childhood and his hobbies and interest have always been intertwined with the great outdoors.
Dick and his wife Maragaret traveled extensively taking photographs of Mother Nature's creatures in their natural environments and gathering other research materials as reference for his paintings.
Dick was first nationally known for his leather artistry but equally well respected for his painting. His work has be purchased by and displayed in many galleries nationally. The largest portion of his work is held in private collections around the United States. Except for a very few limited editions series, all of the paintings were, as was Dick Giehl himself ...."one of a kind".
---
The wildlife painting in the Giehl Collection are a unique composite of several artforms with cowhide serving as the "canvas". The result imparts an unusual degree of realism to the flora and fauna featured.
Leather, when dampened, will retain imprint and form. This pliant but firm characteristic enables the artist to emboss the leather to various planes above the surface as well as accepting carving and modeling techniques to render infinitely fine detail. Some of the original figures are raised as much as an inch off of the surface ground.
Painting embossed leather is vastly different than painting on canvas. The paint treatment of Dick's work was a slow and precise process developed and refined over many years. Photographs and even the prints cannot capture the dimensional beauty and the style of craftsmanship involved. A sign "Feel With Your Eyes" always accompanied a Giehl exhibit as viewers had an uncontrollable desire to touch and feel the painted surface.
---
The prints from the Giehl Collection are produced from electronic scans of color negatives taken by the artist of the original artwork. The images are cleaned to remove any dust, scratches, or other imperfections in the negatives. Following exacting standards, the image are reproduced on Acid-Free artist papers using Pigments through an inkjet process. The use of pigments rather than the typical dyes results in a print that will endure, without fading or discoloring, for many years to come.
To assure the greatest longevity for your prints it is suggested that they be professionally framed behind UV absorbing glass and not displayed in direct sunlight. With the pigments and quality papers used and these simple suggestions, we can assure you of many years of enjoyment of your print(s).
---